Codename Glory / The Frontiersmen (cover A)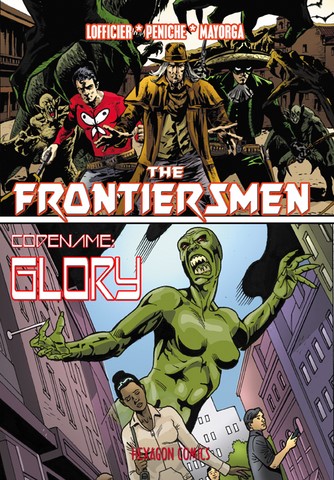 CODENAME: GLORY / THE FRONTIERSMEN - COVER A
by Manuel Martin Peniche.
Contents:
- THE FRONTIERSMEN by Jean-Marc Lofficier & Manuel Martin Peniche.
- CODENAME: GLORY by Jean-Marc Lofficier & Gabriel Mayorga.
Two comic sagas under one cover. In THE FRONTIERSMEN, Stormshadow, the powerful shaman of the Twilight People, allies himself with the Texan freedom fighter Drago and the Mexican hero The Sparrowhawk to battle Vampires and Dinosaurs at the Texas-Mexico frontier in the 1850s. In CODENAME: GLORY, young Soeurette Lagloire (who is Jaydee's sister) moves from Haiti to Manhattan to try to juggle her desire to become a pop singer and her duties fighting supervillains for CLASH...
7x10 squarebound comic, 48 pages b&w
ISBN-13: TBA