Frank Universal & Sally Swift
History
The World Safety Unit of the United Nations was created in 1978 by the United Nations at the behest of C.L.A.S.H. to fight super-scientific threats to the Environment. It was a successor to the earlier Organization for the Defense of the Environment (O.D.E.), which had been established in 1967, and which, under the directorship of the cantakerous Mr. Green, had employed the services of such highly-specialized investigators as the agent code-named "Man".
The WSU is currently managed by Dr. Patrick Swift and is headquartered in San Francisco. His daughter Sally is, with her live-in companion, Frank Universal, one of the agency 's top agents. The WSU employs the services of a number of highly motivated agents in Africa and Asia. Sally has a pet leopard named Oscar, and heads the "Sheherazade division", a commando unit of female agents.
Frank & Sally recently returned to help Homicron and the Strangers.
French Reprints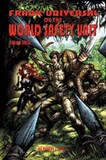 New adventures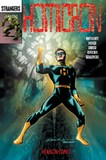 Books (in English)
Guest-starring in the volume dedicated to Homicron available for sale in our shop.