Welcome to the Hexagon Universe
History
The HEXAGON COMICS characters were originally published by France's 5th largest publishers of newstand comics, Editions Lug, established in 1950 in Lyon, which also licensed the publication of Marvel Comics in France. Our characters consistently sold in average 75% of what the Marvel characters sold. During the 1990s, Editions Lug was sold to SEMIC, which continued to publish the characters, some in modernized versions in 2000-03. In 2004, after SEMIC's bankruptcy, the rights to the characters reverted to their creators, who banded together as HEXAGON COMICS to continue exploiting their creations. In 2010,Hexagon partnered with Riviere Blanche to relaunch an ambitious publishing program in France, involving both the reprint of classic stories in 500+-pages trade paperbacks, and two series of new color comics featuring all-new stories with our characters. More than 90 trade paperbacks, two dozen comics, four novelizations, a role-playing game and a set of trading cards have already been published.
New Books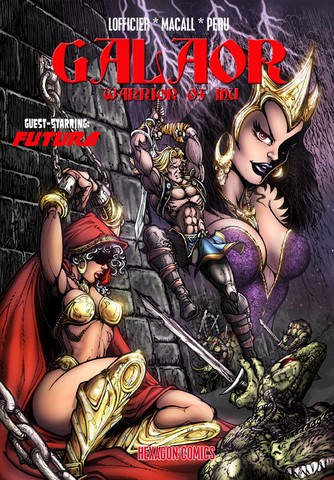 JUNE 2019: GALAOR - WARRIOR OF MÛ.
7x10 squarebound comic, 68 pages color
ISBN-13: 978-1-61227-871-1 - US$19.95 - GBP 12.99.
Galaor de Montbars, Musketeer of French King Louis XIII, is forced to flee France because of the schemes of the sinister Cardinal de Richelieu. Later, he is transported far into the past, to the legendary fifth planet Mû, the destruction of which produced the Asteroid Belt. On this world steeped in legends, rich in treasures, a cosmic crossroad where the gods of the past and the men of the future clash, Galaor fights the undead armies of Lord Kesh, the witches of the Isle of Doom, and other dark forces that threaten the Topaz Throne of Empress Nikkan...
Two sagas of sword & sorcery written by Jean-Marc Lofficier and illustrated by Alfredo Macall and Philip Xavier, plus a retelling of Galaor's origins by Stephan & Oliver Peru. Foreword by Jean-Marc Lofficier.
RETAILERS
: You can purchase this book from us at a 40% discount plus freight, or through Ingram.
Please email us
.
All our books are also on sale on Amazon.


Creators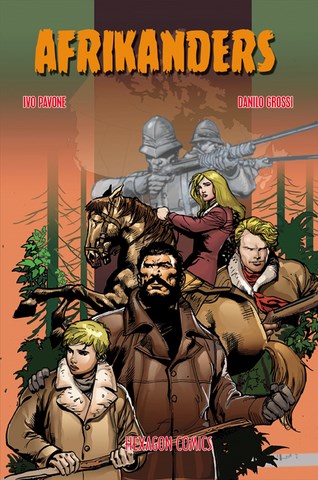 For the first quarter of the 1900s, the United States was the world's leading producer of comics. European cartoonists were nation‑confined and did not achieve international recognition until the middle of the 20th century. By then, the universal popularity of comic books had opened unlimited opportunities. No longer was the newspaper the only platform for cartoonists. Comic books were being originated in every country and their publishers began to find international markets. Despite the emergence of great European talents, American talent, benefiting from America's "head‑start", managed to retain a position of preeminence. So creators like Jack Kirby, Lou Fine, Jack Cole, Harvey Kurtzman, and Stan Lee became standards against which all comics world wide were measured. In Europe there arose strong innovators who gained international acclaim and those artists who remained loyal to the conventions upon which the earlier comics depended. HEXAGON COMICS brings to America the work of creators from French and Italian studios that were published by Editions Lug, and who labored for decades to create popular series in the mold of their American counterparts.
Characters

The HEXAGON UNIVERSE of characters is a library of approximately 3000 comic books consisting of over 250 characters created and published over the past 70 years that have sold over 400 million units, in France, Italy, Spain, the Netherlands, Turkey and, through Image Comics and Black Coat Press, in the United States. There is no comparable library of comic book properties of this size and depth available in the world today.These characters encompass all genres and have been successfully established in Europe for well over five decades. Like the Marvel Comics and the DC Comics characters, the Hexagon characters exist in the same, integrated universe. That universe encompasses heroes from ancient times, such as the sword-wielding barbarian Kabur (portrayed above), pirates and corsairs such as Dragut, knights and soldiers who fought under Napoleon or in the British Raj, cow-boys and gunslingers, World War II heroes, superheroes of all kinds, and even a number of futuristic, space opera characters.