Sibilla
History
Much about Sibilla's past remains unknown. She is the descendent of Elena Drago, sister of 16th century Barbaresque captain Dragut, raised by Cagliostro, one of the Twelve Immortals. The present-day Elena was raised by her mother to assume the mantle of "Heir" of Cagliostro. Cagliostro has appeared to her several times in near-ghostly, supernatural guise. Elena works at home, writing a bestselling column about the occult which she signs "Sibilla" for Milan-based magazine Flash. The column is syndicated throughout Europe in other magazines owned by British millionnaire Sir Daniel Wilson. Sir Daniel, his factotum "Champagne", Flash editor Maria Carpi, and fellow investigative reporter Leonardo Verga are the only ones in the publishing world who know that Sibilla is Elena Drago. Letters from readers often provide Sibilla with cases to investigate.
Sibilla has also teamed up with Phenix, and with fellow occult practicioners, Count Saint-Germain and Bob Lance. She helped Jean Sten against Wampus. She recently gathered Ozark, Man and the Metal Man to form The Enchanters, to fight powerful supernatural threats.
Reprints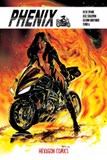 Included in the first volume dedicated to Phenix.
Novel