Hexagon: Dark Matter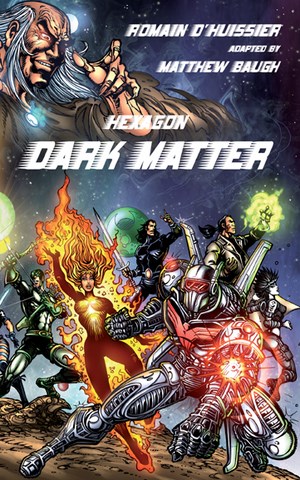 NOT A COMIC BOOK.
DARK MATTER: An Hexagon Comics novel
written by Romain d'Huissier & adapted into English by Matthew Baugh; cover by Alfredo Macall.
Black Lys. Plasma. Rakar. The Mysterious Archer. The Dark Flyer. Together they form Hexagon, the world's most powerful team of superheroes! But since the death of their leader Jeff Sullivan, the Man of Brass, they have gone from failure to failure - the mystical bond that united them is broken, their single sense of purpose seems to have disappeared. When a mysterious enemy emerges from the depths of time, determined to destroy them, Hexagon must find a replacement for Jeff who can restore their balance, but will this new member also spell their doom?
Source Material: Hexagon 1: Matière Noire

5x8 trade paperback, 300 pages.
ISBN-13: 978-1-61227-154-5. US$22.95