Kabur #5: Arianrod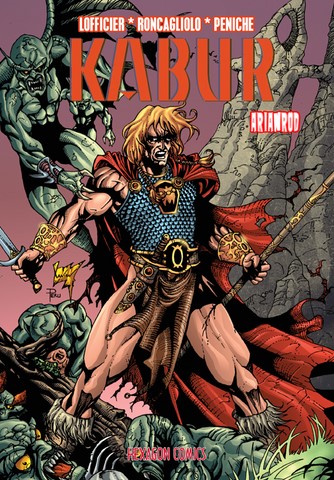 KABUR #5: ARIANROD by Jean-Marc Lofficier; art by Manuel Martin Peniche, Juan Roncagliolo; cover by Philippe Xavier.

21. THE DEMONS OF ARKHANAL
22. THE COMING OF ARIANROD
23. THE CAULDRON OF THE SESSEVAR

Portfolio: by Caza, Ladrönn, Mike Ratera.

As this "season" of Kabur opens, the beautiful Lagrid is kidnapped by monstrous beasts sent by Selinor Psah, the Sorcerer-Sultan of the far-off city of Arkhanal, located at the other end of the Earth, on the southern tip of the Gondaxan continent.


Kabur embarks on the long journey that will require him to cross mountains and jungles, deserts and seas, to rescue his beloved. But as soon as he has begun, he already faces new, terrifying dangers, such as the renegade Fomor Ghool, maker of men, and the beautiful Arianrod, mistress of the sword of fire and ice…


This classic, epic, heroic fantasy saga continues under the pens of writer Jean-Marc Lofficier and artist Manuel Martin Peniche and Juan Roncagliolo Berger.


7x10 squarebound comic, 76 pages b&w
ISBN-13: 978-1-64932-226-5. US$12.95.