Kidz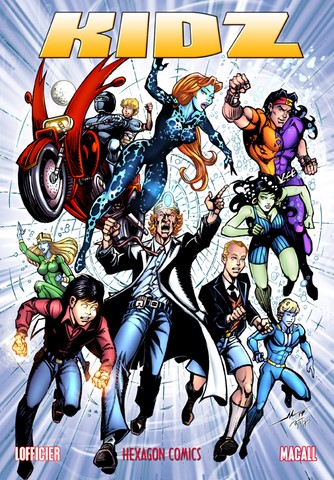 KIDZ
by Jean-Marc Lofficier & Alfredo Macall; cover by Alfredo Macall.
Contents:
Valor does not await... by J.-M. Lofficier & Alfredo Macall
The difference between Kidz and other teenage superhero books like Teen Titans, is that none of the members of Kidz were sidekicks; all were once the stars of their own series in the 1960s and 70s. Unlike DC and Marvel, Hexagon's predecessor, Editions Lug, did not hesitate to publish books starring teenagers!

When a trio of powerful super-villains brings the U.S. to its knees, incapacitating all adult heroes, the only hope left are... THE KIDZ! Brought together by the eccentric scientist ARCHIE BOLT, a new team assembles, composed of IVAN WOLONSKY, teenage psychic, the sub-aquatic champion MARINO, motorcycle master MOTOMAN, energy construct creator QUBE, super-genius SUPERBILL and, from the depths of cyberspace itself, the amazing FL@MBO! Together, they fight their first battle against a triumvirate of evil comprised of former foesd that have forced the surrender of the United States!

The teenage heroes of the Hexagon Universe gather for the first time in this book-length saga by J.-M. Lofficier and Mexican artist Alfredo Macall.

7x10 squarebound comic, 52 pages b&w
ISBN-13: 978-1-61227-895-7. US$10.95 / GBP 8.99